Dandruff is a common scalp disorder with which almost half of the people in the world are affected. Besides several medical discomforts, it adversely hampers your overall personality and its impact.
For curing this problem, pure natural ingredients like Rosemary, Tea Tree, Neem and Sweet Indrajao have come together to form a revolutionary anti dandruff cosmetic. This Anti Dandruff Hair Oil works wonders in soothing and nourishing your irritated scalp.
Sweet Indrajao is one of the key ingredients in this proactive formulation is renowned to treat many scalp disorders like dandruff. Another ingredient, Neem is endowed with supreme healing powers to gently moisturize the scalp and hair in order to promote hair growth.
Thus it plays a vital role in eliminating dandruff and it makes sure that it does not occur again and again. Tea Tree is another essential herb with proven anti-dandruff properties.
When all these incredible herbs come together, they besides controlling dandruff, also enhance your scalp?s blood circulation to effectively accentuate your hair growth. This light and non-sticky herbal hair oil reduces scalp itching by minimizing microbial infections of the scalp. Read more: Anti-Dandruff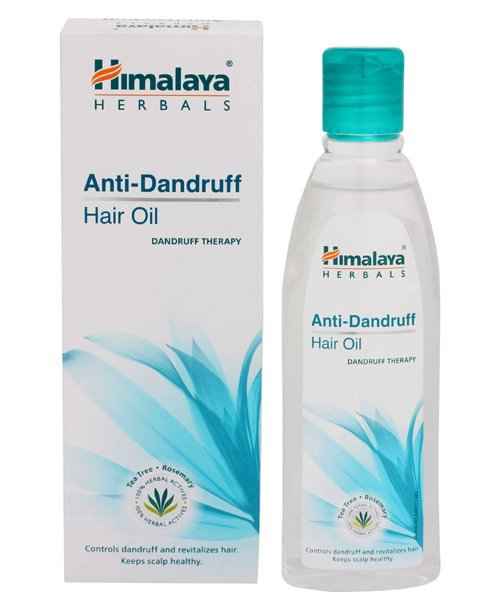 PROS OF HIMALAYA ANTI-DANDRUFF HAIR OIL:
1) It is light and non-sticky in texture so that it can be used every day.
2) Efficiently reduces dandruff to give you healthy hair.
3) Relieves scalp itching and irritation.
4) Moisturizes and hydrates scalp, without making it oily or sticky.
5) Strengthens hair shaft to reduce hair fall.
6) Contains all naturally sound hair perfecting ingredients.
7) Decently priced and is value for money.
8) Comes in an easy to use sturdy packaging.
9) Does not contain any harsh chemicals or preservatives.
10) Has a long shelf life.
Himalaya Anti-dandruff hair oil contains goodness of Tea Tree Oil and Rosemary. The Tea Tree Oil has anti-fungal properties that enables it to effectively combat dandruff. It moisturizes hair and keeps the scalp free of fungal infections. It strengthens hair and protects the scalp from infections.
The Rosemary extracts are effective in treatment of dandruff, prevents premature balding, strengthens hair follicles, and make hair stronger.
The Himalaya anti-dandruff oil is designed to fight the signing of dandruff by attacking the microbial infections on the scalp. The Himalaya hair oil is suitable for all types of hair.
Beat the dandruff problem in a nourishing way with the Himalaya Anti Dandruff Hair Oil that promotes the health of the hair and scalp.
It helps fight the dandruff-related issues with natural ingredients like rosemary, hyamaraka, neem, and tea tree oil. The unique blend of these key ingredients helps treat your hair and scalp skin so you get strong and healthy hair.
Directions for use:
Apply Anti-Dandruff Hair Oil on to the scalp
Massage the scalp gently in a circular motion with fingertips
Leave it for an hour or two
Rinse off the oil with shampoo
For best results, apply conditioner after washing with shampoo.
Use under Medical supervision. click here
Key Benefits
A good nourishing and revitalizing hair and scalp treatment oil.
Aids in controlling dandruff and makes the scalp and hair healthy.
Ideal for massaging the scalp that eventually improves the blood circulation to the scalp, making hair stronger and healthier.
Contains rosemary that is loaded with hair care benefits and aids in treating dandruff and scalp infections.
The tea tree oil in it has antifungal properties that prevent dandruff.
Ideal for all hair types.
Directions for Use
Take a few drops of the oil and massage on the scalps gently in a circular motion.
Leave the oil on your scalp to get absorbed for 1-2 hours before shampooing.
Safety Information
If you are allergic to any of the ingredients used in the product, consult with your doctor before use.
Read the instructions carefully before use.
Suitable for external use only.
Store the product in a cool and dry place.