Selsun Daily Anti-Dandruff Shampoo for Dry Scalp is a natural formulation which is applied onto the hair for its anti-dandruff, hair growth, anti-hair Fall and hair thickening properties. It helps reduce itchiness of the scalp and kills certain types of fungi or yeasts called dermatophytes.
The product image(s) shown are for representation purposes only. The actual product may vary. It is recommended to read the product labels (if any), batch details, directions for use, etc., as contained in the actual product before consuming and/or utilizing the product. The product is meant for fresh and immediate consumption, or as specified by the seller of the product. For other information, please contact the merchant directly. Read more:
Selsun Daily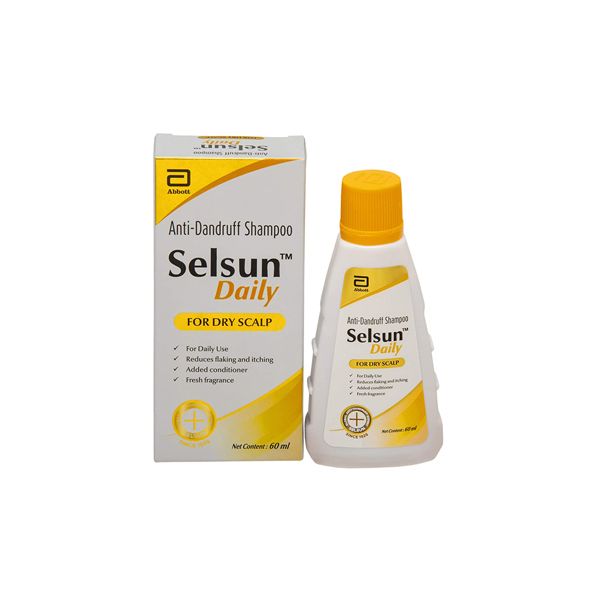 Key Ingredients:
Selenium sulfide
Key Benefits:
Selenium sulfide kills certain types of fungi or yeasts called dermatophytes, including one called Pityrosporum (Malassezia)
Helps to slow down the turnover of cells in the top layer of skin, which reduces flaking, scaling and itching
Acts as aneffective scalp cleanser
Assists in removing dandruff with regular use
Fights against itchiness of the scalp
Directions For Use:
Take an adequate amount of shampoo on palm and gently massage onto hair then rinse off.
Safety Information:
Read the label carefully before use
Do not exceed the recommended dose
Keep out of the reach of children
Store at a temperature below 25-degree Celsius and 40 % humidity in cool and dry place
Should be protected from direct light
Selsun Daily Anti-Dandruff Shampoo – Regular Use Shampoo

For effective dandruff control, this anti-dandruff shampoo with selenium sulphide (1%) and GalFUSION Gentle Care can be used every day. It's sulphate-free and paraben-free & is gentle on the scalp.
Skin irritation, dry skin, oily or dry hair/scalp, or temporary hair loss may occur. If any of these effects last or get worse, discontinue use and consult your doctor or pharmacist promptly. Hair discoloration may occur and can be reduced by carefully rinsing the hair thoroughly after each treatment.
Apart from dandruff I also had itchy and dry scapl and this shampoo has helped me a lot. I was actually going to go to dermatologist to show my dry scalp but selsun just made it better after 2 washes. It does not lather as well as other shampoos do but it does get rid of dandruff.
Hair needs to be rinsed and 5-10 ml of Selsun daily needs to be massaged in the scalp to produce enough lather.
The shampoo needs to be kept on the scalp for 3-4 minutes before rinsing the scalp thoroughly.
Selsun Daily needs to be used daily for best results.
Like all medicines,
Selsun Shampoo can cause side effects, although not everybody gets them
. Side effects may include: Skin rash or hives. Irritation or sensitization of the skin or scalp, sometimes described as a burning sensation.
click here
Selenium has many benefits for hair, including: Selenium kills dandruff-causing fungus, which is why it's an important ingredient in many dandruff treatments. Selenium is essential for the production of the thyroid hormones that help to regulate hair growth, says health author Mary Shomon.
Selsun Daily comes with a fresh fragrance and is a safe anti-dandruff shampoo for both men and woman. For best results, use Selsun Daily on a regular basis. For severe dandruff condition, consider using Selsun Suspension with 2.5% selenium sulphide.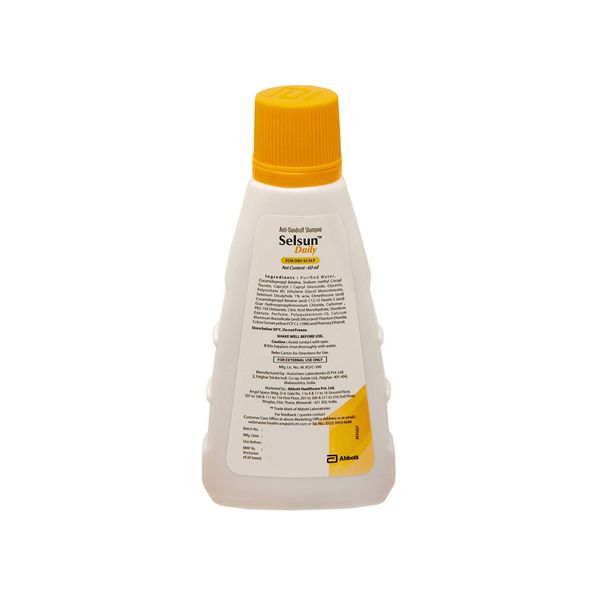 Selenium is more concentrated in the thyroid than in our other organs and is important for the proper functioning of our thyroid hormone. This hormone in turn plays a huge role in regulating hair loss in patients suffering from the type of hair loss that occurs in patches.